14. Mai 2011 Samstag – 20 h

mex
im Künstlerhaus Dortmund
Eintritt 6 €
RICHARD LERMAN
SHACKLE
JORGE HARO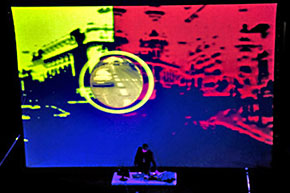 –––-
RICHARD LERMAN [USA] Video, Zwiebeln, Strohhalme, Fahrrad & Elektronik
SHACKLE
// Anne La Berge [B] Flöten, Elektronik
// Robert van Heumen [B] Laptop, Controller, Joystick
JORGE HARO [ARG] Laptop, Echtzeit-Elektronik, Video
–––-
Jede Fahrradspeiche plingt anders. Knicktrinkhalme erzeugen schimmernde Melodiefelder; Reisepass und Dornenzweig dienen dem unter- und obertonreichem Geigenbogenspiel:  Richard Lerman durchwandert seit 1961 mit hoher, auch politscher und visueller Aufmerksamkeit Wüsten und Klangwelten. Er gewinnt dabei Schritten, Pflanzen und Dingen die erstaunlichsten Klangfacetten ab –  indem er Töne unterhalb der Hörschwelle technisch verstärkt, oder flüchtig bekannten Geräuschen durch Entschleunigung zu Schönheit und Charakter verhilft.
Modern free noise performance plus video: Jorge Haros Faszination für Klang und Vibration kulminiert live in elektronischen Clustern, die druckvoll aus den Boxen wummern. Die ausgiebigen Drones werden spielerisch durch hochtönige Signale durchschnitten, was sich synchron im dazu generierten Video zeigt. Klangdaten werden zu futuristisch motivierten und modifizierten Sterndiagramme umgewandelt, Testbilder und Amplitudenkurven animiert und von wechselhaft flimmernden Parameterziffern garniert. Welcome inside the machine!
Apropos: Shackle lässt seine Auftritte von einer Software dirigieren, die sowohl für frappierende Parameterwechsel als auch lange Klangwandteppiche sorgt. Mal fügen sich die Flötistin und der Laptopist ihrem Dirigenten, mal lehnen sie die Vorschläge bezüglich Timing, Dynamik oder Textur ab – so dass kontrollierte Formen mit grenzenloser Impro verkettet werden. La Berge artikuliert die Timbres und Luftbrechungen verschiedenster Flöten. Van Heumens introvertiertes Live Processing sorgt mit Sample-Scratching, Verzerrung und harten Kanten für gemeinsam mikrotonales Summen, Pluckern und Vergnügen.
–––-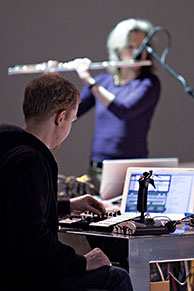 –––-
RICHARD LERMAN [USA]  video, onions, straws, bicycle and electronics
JORGE HARO [ARG]  laptop, live electronics, video
SHACKLE
// Anne La Berge [B]  flutes, electronics
// Robert van Heumen [B]  laptop, controller, joystick
–––-
Each bicycle spoke sounds different. Straws produce resplendent melodic fields; passport and thorny branches display rich harmonics when coaxed with the violin bow:  since 1961 Richard Lerman has been perambulating through deserts and sound worlds with keen attention  as well as deep political awareness. In the process he has acquired from steps, plants and objects the most amazing of sound signatures by technically amplifying sounds that lay underneath the auditory threshold or by restoring cursory well-known noises through deceleration to reveal beauty and character.
Modern free noise performance plus video: Jorge Haro's fascination for sound and vibration culminates in live electronic clusters, whose high pressure humming pours from the speakers. The amples drones are cut in a playful way with high range signals, which is shown in the synchronously generated video. Sound data is transformed into futuristically motivated and modified star diagrams, test patterns and amplitude curves are animated and garnished with mutating,  flickering parameter numbers. Welcome inside the machine!
Apropos: Shackle conduct their performance using software, which provides both striking parameter changes as well as broad sound tapestries. At times the flutist and the laptopist go along with their conductor, at times they refuse the suggestions concerning timing, dynamics or texture – so that controlled forms and boundless improv are concatenated. La Berge articulates the timbres and air refractions of the most diverse of flutes. Van Heumen's introverted live processing, with sample-scratching, distortion and hard edges, provides micro-tonal humming, bubbling and, finally, simply pleasure.
–––-
–––-–––-
Veranstaltet von mex – intermediale und experimentelle Musikprojekte e.V. Mit freundlicher Unterstützung durch das Künstlerhaus Dortmund sowie Pro Jazz e.V. und das Kulturbüro der Stadt Dortmund. mex wird kuratiert von Maija Julius