5. Juni 2009 Freitag – 20 h
mex im Künstlerhaus Dortmund
SUBOKO
JIM CAMPBELL
CHRIS FROH
TAMARA LORENZ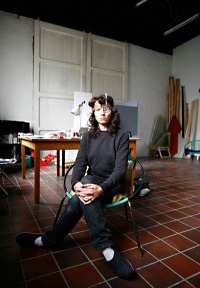 –––-
eight track future past attack
JIM CAMPBELL  [USA/D]
CHRIS FROH  [USA]
cassette kit,  electronics, samples

TAMARA LORENZ [D]
videos
SUBOKO [Frankreich]
Bouto, Gully, Regreb
percussions, objects, turn-tables, live electronics, tapes, amps
–––-
Kurz vor der Europawahl schließt sich der Turntapelist & Wahldortmunder Jim Campbell mit San Franciscos Neue-Musik-Schlagwerker Chris Froh zu einem munteren Re- und Dekonstruieren ihrer gemeinsamen musikalischen Vergangenheit zusammen. Mit präparierten Analog-Multispur-Rekordern und anderen, fast verloren geglaubten Reliquien des Kassettenzeitalters sowie einer Vielzahl von Tapes – bespielt mit found sound, eigenen Sessions, u.v.m. – demonstrieren die beiden Amis mit Nachdruck für den Charme selbstgebastelter Komplexitäten und für das Recht auf ein flirrend-klirrend vibraphones Schweben durch milchgläsern helle Klangflächenlandschaften.
Die Welt der insgeheim lebendigen Dinge hingegen portraitiert Tamara Lorenz mit Video, Witz und Bühnenbildgespür. Mülltüten gewinnen die Lufthoheit oder fallen transparentfarbig durchs Bild. Holzlatten verbinden sich zu formal präzisen und doch prekären Konstruktionen. Sind sie soziale Wesen und üben das Gefüge, oder Einzelgänger und spielen mal zusammen Pyramide? Die wahre Gestalt der Dinge ist eine Lüge, aber Lorenz führt uns überraschende Temporär-Identitäten ihrer Pappenheimer vor Augen.
In die Ohren hingegen treibt das Straßburger Perkussivtrio Suboko ihre guturalen Drones. Es legt den Noise noch etwas tiefer und streut konzentriert Brachialzitate ein. Wer an japanische Zahlenmythen des Alltags denkt, liegt nicht völlig daneben, lineare Rhythmen ergeben sich auch hier. Einfach gehaltene Versuchsanordnungen akkumulieren zu einer athmosphärisch dichten, spannungsreichen und vielfältig dunkel schimmernden Verbindlichkeit, die Genregrenzen mühelos überschreitet. Schlagen, Scheppern, Reiben und Soundzuspielungen treffen auf elektronische Lo-Fi-Generatoren, alte Urlaubskassettenbänder und viel Metall.
–––-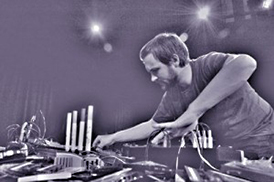 "eight track future past attack"
// Jim Campbell (USA/D): cassette scratch kit/tapes/electronics
// Chris Froh (USA): prepared cassette fourtrack/tapes/electronics
Tamara Lorenz (D)
video
SUBOKO (F)
// Pascal Gully
// Bouto
// Laurent Berger
percussions, objects, turn-tables, live electronics, tapes, amps
Shortly before the European elections, turntapelist & self-chosen-Dortmund-habitant Jim Campbell joins forces with San Francisco-based new music percussionist Chris Froh for a blithe re- and deconstruction of their shared musical past. Using prepared analog multitrackers, cast-off relics of the tape age and a multitude of cassettes filled with found sound, their own live sessions, a.o. – the two Americans demonstrate empathic for the charm of self-made complexitiy and for the right of a whir-clinking vibraphonical floating through sound scapes of bright milk glass.
Tamara Lorenz however portraits the world of the secretly alive things with video, wit and a feeling of stage setting. Garbage bags win the sovereignty over the airspace or fall transparency-colored through the frame. Wooden slats are connected to formally precise and nevertheless precarious constructions. Are they social creatures and practice the arrangement, or loner and play together pyramid? The true gestalt of the things is a lie, but Lorenz shows us the surprising temporarily-identities of her Pappenheimer quite plainly.
Into the ears however the Strasbourgian percussion trio Suboko impels its guttural drones. It lowers the noise and intersperses concentrated citations of brutism. Who thinks of Japanese number myths of the everyday life, is not completely off base – linear rhythms do arise also here. Simply held test arrangements accumulate to an atmospheric, dense, tension-rich and versatile darkly shimmery commitment, which exceeds genre borders easily. Batting, clanging, rubbing and sound feeding meet electronic Lo-Fi-generators, old vacation tapes and a lot of metal.
–––-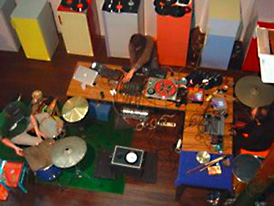 ———-
Veranstaltet von mex – intermediale und experimentelle Musikprojekte e.V. Mit freundlicher Unterstützung durch das Künstlerhaus Dortmund sowie Pro Jazz e.V. und das Kulturbüro der Stadt Dortmund. mex wird kuratiert von Maija Julius