Freitag + Samstag – 20 h
mex im Künstlerhaus
Sunderweg 1, Dortmund
Eintritt 6 EUR
surprise surprise
Im Rahmen der Ausstellung "mexhibition" sind die zwei Tage auch gleichzeitig die Finissage, da die Exponate noch bis zum 18.11. im Künstlerhaus Dortmund zu sehen sind. Also die perfekte Gelegenheit, sich die Dinge noch einmal anzusehen.
An beiden Abenden ist das Künstlerhaus ab 20 Uhr geöffnet, die Konzerte beginnen etwas später. Aber wer wird auftreten? Das bleibt bis zum Schluß geheim und ist eine mex-Wundertüte für Mädchen und Jungs, die intermediale und experimentelle Musik genauso lieben, wie Konfetti.
Surprise Surprise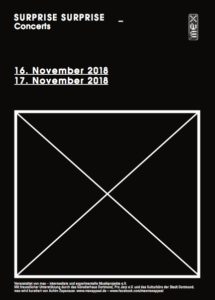 ————
Two concerts within the exhibition "mexhibition". Those two days are also the finissage, since all works remain at the Künstlerhaus Dortmund until November 18. Thus the perfect chance to see the wonderful works.
Both days the Künstlerhaus opens at 8pm, the concerts start slightly later. But who will perform? That will be a secret until the very moment and remains a lucky bag for girls and boys who love intermedial and experimental music as much as confetti.
Surprise Surprise
November 16, 2018
November 17, 2018
Friday & Saturday, 8pm – Begin 8:15
mex im Künstlerhaus
Sunderweg 1, Dortmund
Entree 6 EUR
AMANDMENT: Who performed?
Reed Archibald (AU)
Phillip Schulze (DE)
Kota Yamauchi & Riona Inoue (JP)
Janneke van der Putten (NL)
Chrs Galarreta (PE)
Anna Schimkat (DE)
Bart Maris (BE)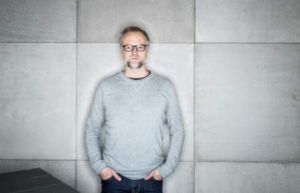 Rees Archibald is a sound based artist from Australia who just moved to Lithuania and is currently based in Germany. Originally a saxophone player, he spent several years in Japan, studying traditional Zen music. Later, working with composers Alvin Lucier, Ron Kuivila and David Behrman, he studied electronic music composition.
Phillip Schulze (*1979, Germany) is a media artist and composer, working in the field of time-based and site-specific art. His work is oscillating between different artistic forms of expressions. On one hand, he focuses on compositions for classical instruments, algorithmic compositions, electroacoustic music via synthesizers and self constructes software instruments.
Kota Yamauchi, born in Kyoto, Japan in 1986. Improvised performance by using the electric guitar frequently as prepared guitar and sound source to make experimental soundscape and creating the sounds of audible scenery. He released his 1st cassette called "In the Sento" on the independent cassette label "hoge tapes" from Kyoto. The recording is a live performance from a Japanese traditional bath house.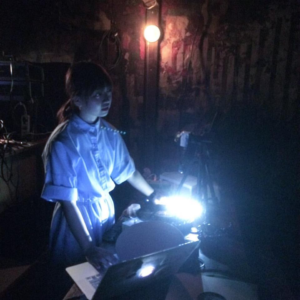 Riona Inoue, born in 1993 and living in Kyoto. VJ performance to capture images produced from self-made devices such as turntable remodeling and project them in to cameras, and installations and video works made by unique methods are characterized by strange textures between digital and analog.
Janneke van der Putten (Amsterdam, 1985) is a visual artist and performer based in Rotterdam. Her practice involves experiences of listening, performances, sound and video, documentations in image/text/textile, workshops, music projects, and creating platforms for cultural exchange. Her voice is her main tool, guiding her through physical and sonic explorations in different landscapes. Engaging with specific sites and local contexts, and through her personal experiences, she investigates (human) responses to her surroundings, and their relation to natural phenomena and transitions, such as the sunrise.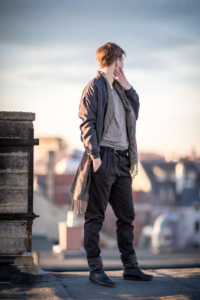 The artist Anna Schimkat, born in Darmstadt in 1974, understands art, in the sense of the notion of exhibitions by Lucy Lippard or Szeemanns, as science, as experimental layout for questioning all different aspects, such as science itself. After finishing her studies at the Bauhaus-Universität Weimar, she stayed for some time as a guest at a research institute for neuroscience, where she was specially interested in visibility of perception and brain processes, due to modern technology of the magnetic resonance tomograph (MRT). She implements her investigations in human cognition primarily with her sound installations, that are always meant participative, too. In her works Anna Schimkat not only asks herself, but also the viewer how we are gathering experiences and how we achieve consciousness about the formation of experiences.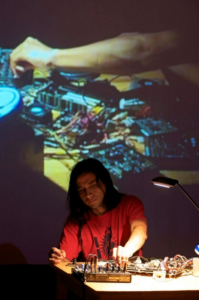 Chrs Galarreta (Lima, PE) is a musician, composer and installation artist living between France, The Netherlands and Peru. In his sound-based works he uses broken electrical appliances, hand-made audiovisual instruments, field streamings and -recordings, feedback systems, the induction of errors in the software-hardware, and musical instruments. He researches and highlights the acoustic qualities of bodies and spaces, and transduces them imperceptible physical phenomena to an audible dimension – as electromagnetic fields, subaquatic sounds or otoacoustic emissions, among others.
Performing on Sunday, November 18th, with his sound installation Loops: Bart Maris (BE)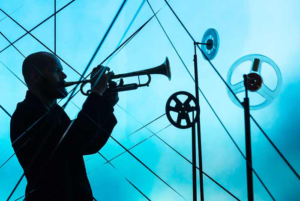 Bart Maris is a Belgian trumpet player. He has performed in a very large number of bands, either as a group member or a guest musician on records or in concert. He was one of the original members of Fukkeduk.  Maris joined the Flat Earth Society. Besides he worked with artists including Jan Klare, Wilbert de Joode, Michael Vatcher, Fred Frith, Ab Baars, dEUS, Zita Swoon, Art Zoyd, Michiel Braam, Gary Lucas, Frad Van Hove, Evan Parker, Peter Brötzmann, John Zorn and many more.
————-
Veranstaltet von mex – intermediale und experimentelle Musikprojekte e.V. Mit freundlicher Unterstützung durch das Künstlerhaus Dortmund, Pro Jazz e.V. und das Kulturbüro der Stadt Dortmund. mex wird kuratiert von Achim Zepezauer.
Thanks to CBK Rotterdam (Centre for Visual Arts Rotterdamm)